Born from the desire to develop products that are as natural and beneficial as possible for the well-being and beauty of everyone, all organic carrier oils from our Florihana distillery are obtained from seeds or fruits harvested when ripe. The latter are then cold-pressed in order to preserve the natural plant-based properties and ensure their superior quality through their richness in essential fatty acids, antioxidants and vitamins.
Extracted from oleaginous plants (from the Latin "oleago" - "which contains oil"), i.e. plants with seeds, nuts, pips or fruits rich in fat, carrier oils are overall well known for their beneficial virtues, including nutritive, energetic, moisturizing and softening effects. Mainly consisting of fatty acids such as omega 3, antioxidants and vitamins, these oils are ideal for body and hair care, natural cosmetics, as well as for cooking (olive, walnut, hazelnut...). It is recommended to select oils made from a cold pressure system, as this process allows to preserve the natural properties of the plants and, as a result, produce much higher quality products. Due to their specific therapeutic virtues depending on their ingredients and the fact that they can be used as a base for diluting essential oils, certain carrier oils are also very popular in aromatherapy.  
In particular, Florihana is proud to provide its customers with three rare and precious carrier oils, whose effectiveness and properties are just as appreciated and renowned as those of the most frequently used ones (jojoba, sweet almond, apricot kernel, castor oil...). Natural and 100% organic, our Raspberry Seed, Blackberry Seed and Sea Buckthorn carrier oils are manufactured in an artisanal way on site, at the heart of the Plateau de Caussols, which is famous for its singular beauty and its exceptional protected ecosystem.
Obtained by cold pressing from the seeds of Rubus Idaeus in France, this truly prodigious oil provides many beneficial effects for skin and hair care. 
Rich in antioxidants, including vitamin E, the raspberry seed carrier oil is a valuable anti-ageing and anti-wrinkle beauty care product. Regenerating, restorative and toning, it can be applied to the face and neck, on cleansed skin, each morning and evening. With its high omega 3 content, its nourishing and moisturizing power is ideal for sensitive and delicate skins. Due to its dry texture, the raspberry seed carrier oil is also suitable for oily skins.
Also containing carotenoids, this product is famous for illuminating the complexion, preparing and protecting both skin and hair during sun exposure or cold winter weather. The raspberry seed carrier oil can thus be incorporated into your sunscreen or used as an after-sun care product. Furthermore, it is recommended for sensitive and irritated skins due to its anti-inflammatory properties, which help to soothe irritations and reduce redness.  
Resulting from the cold pressing of the seeds of Rubus fruticosus, this French-produced oil is also highly treasured for its multiple benefits. Particularly restorative, regenerating, soothing and antioxidant, the blackberry seed carrier oil is first and foremost a powerful anti-ageing and anti-wrinkle treatment thanks to its content in omegas 3, 6 and 9, as well as vitamins C and E. With a pleasant fruity scent and a dry touch that allows it to penetrate the epidermis very easily, this oil blends nicely with other daily skin care products (anti-ageing for mature skins, moisturizers, protectors, repairers for dry, sensitive or damaged skins for instance).   
Due to its combination of vitamin C and omega 3, the blackberry seed carrier oil also acts as an excellent nourishing and moisturizing ingredient for both skin and hair. Very protective too, it blends marvelously with baths and care products (e.g. sunscreen). For a soft and silky skin, simply apply and massage a few drops of this oil on your face and neck every morning and evening. Equally ideal as a hair care product, the blackberry seed carrier oil promotes hair protection, nourishment, strengthening and shine.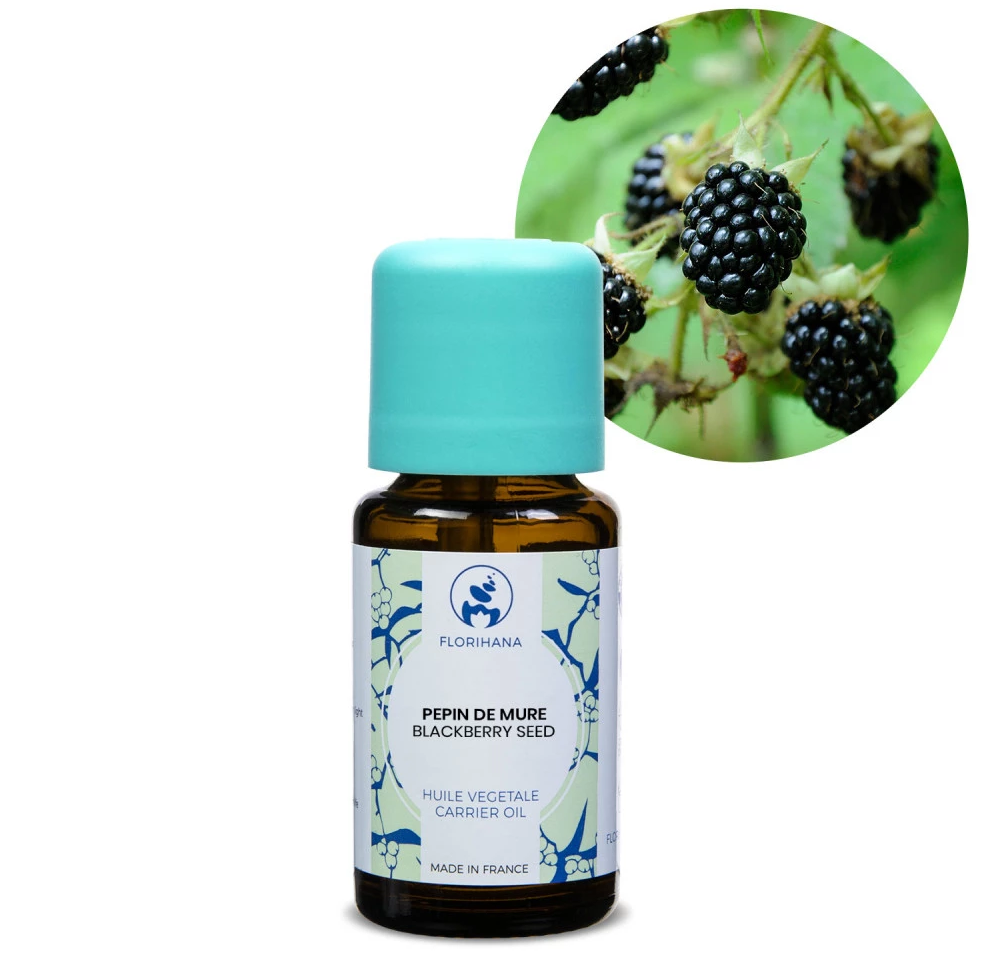 Produced by cold pressing of the seeds of the Sea Buckthorn plant, which is cultivated in Europe, this oil is mainly famous for its anti-ageing function and its healthy glow effect as it is rich in vitamin E and carotenoids. Given its protective power, its use is highly recommended as a preparation for sun exposure and as an after-sun care product. Revitalizing and antioxidant, you may apply a few drops of this oil on your face each morning. As it penetrates the epidermis very smoothly, this product will also blend harmoniously with your day cream for a luminous and refined complexion.
Moreover, the sea buckthorn carrier oil is highly sought-after for its nutritive, softening and restorative benefits for all skin types given its omega 3 and 6 components. This product will therefore perfectly blend in with facial creams and treatments. Thanks to its anti-inflammatory properties, it will also combine nicely with Aloe Vera gel for even more hydration and repair.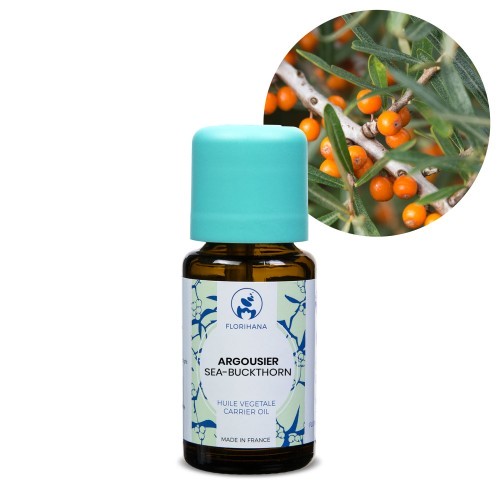 If you wish to learn more about our Florihana distillery
and our different lines of natural and organic products,
you are welcome to explore our website or contact us directly through our contact form.
Back