Exotic, sweet and suave, Ylang Ylang (Cananga odorata) is a plant native to humid tropical areas in Southeast Asia. Historically prized for its unique scent in perfumery, this plant is also famous for its multiple benefits in the therapeutic and cosmetic fields.


Its floral, spicy and jasmine notes can be found in the composition of many prestigious perfumes, such as Chanel n°5, Bois des îles de Chanel, or Aqua Allegoria - Ylang & Vanille by Guerlain. Known for its aphrodisiac and optimizing effects, this "flower of love" or "flower of flowers" is also unanimously valued for its harmonizing and relaxing virtues. 
A must for any season, the essential oil of Ylang Ylang is generally followed by various denominations, i.e. "Extra" or "Complete". More specifically, what are the differences between both names? 
Depending on how they are obtained, the essential oils of this exotic plant, which is mainly cultivated in Madagascar and The Comoros nowadays, do not have the same composition nor the same aromas. Their respective designations do not imply a difference in their quality but rather in their fragrance and their constituents. 
In particular, the production of these so-called "Extra" and "Complete" oils involves a distillation process of Ylang Ylang flowers, which can last up to 20 hours in total. Throughout this process, both essential oil fractions are isolated, ranging from the most to the least scented.

Obtained after 1 hour of distillation, this is the most aromatic oil with the highest density. 
Due to its heady and luxurious scent, the Ylang Ylang Extra essential oil is mainly suitable for the Perfume industry, including high-end, to make fragrances, particularly with a floral or oriental touch.  
Its use is also appropriate for creating personal natural perfumes. In particular, this essential oil with sweet and exotic aromas blends very well with those of Bergamot, Frankincense, Sandalwood, Patchouli and Lavender, for instance. It is also possible to add 1 drop of Ylang Ylang Extra in a tablespoon of a neutral carrier oil, such as Jojoba, then apply to the pulse points (behind the ears, inside the wrists…) for a unique fragrance. 


*Before any use, we recommend consulting a health professional specialized in aromatherapy as well as carrying out an allergy test to this organic essential oil, and cannot be held responsible in case of use without prior medical advice.


Biochemical Profile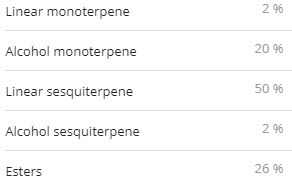 At the end of the distillation process, the other fraction of Ylang Ylang essential oil, namely "Complete" or "Totum", is thus obtained:

Produced after 10 to 20 hours of fully distilling the flowers of Ylang Ylang, and with a lower density, this essential oil of balanced composition therefore contains all of the aromatic molecules. 
Richer in sesquiterpenes (55%) with a soothing action among other properties, Ylang Ylang Complete is also high in esters (20%), both calming and rebalancing.   
With a much subtler fragrance than the Extra and due to its stimulating, regulating, toning and optimizing benefits, this essential oil is mainly suitable for therapeutic purposes. No less exotic and suave, it may be diffused as well, inviting us to travel and relax. 
A remarkable skin and hair tonic, more affordable too, the Ylang Ylang Complete essential oil is also widely used in the cosmetic field to develop deliciously scented balancing and revitalizing treatments. Applied well diluted in a carrier oil or other natural care product, it helps to cleanse and regenerate all skin types, while regulating sebum production. It is additionally renowned for nourishing, strengthening and bringing shine to the hair. For a relaxing time, Ylang Ylang Complete may be blended with massage oils.  


**As for the Extra, we recommend seeking medical advice before any use (oral, cutaneous or in diffusion) of this organic essential oil.

Biochemical Profile

DIY RECIPES

Diffusion blend for a cosy and harmonious atmosphere
Diffusion blend for a peaceful time
Diffusion blend for a refreshing and exotic ambiance
Special hair care to treat and prevent split ends*** 
Ingredients for 1 treatment 
Several drops of melted Coconut carrier oil (about ¼ of a teaspoon)
The same amount of Aloe vera cosmetic gel   
2 drops of Ylang Ylang Complete essential oil
***HAMPIKIAN Sylvie, Huiles essentielles pour tout soigner, 100 recettes au fil des saisons, éditions Marabout (in French) 

Soothing massage oil  
To learn more about our Florihana brand and products, we invite you to explore our website or contact us using the attached form. 
Back