This November, we are very pleased to introduce our brand-new essential oil of Palo Santo* (Bursera graveolens), certified 100% pure and natural as well as historically renowned for its multiple virtues.  

From Ecuador, our rare and precious exotic oil is produced from the distillation of the protected Palo Santo tree's fruits rather than the wood. Formerly, it was forbidden to cut this species while alive in order to harvest the wood from which the oil is extracted. Increasingly popular, this tree is now threatened by the wellness industry. Indeed, Palo Santo wood is currently heavily traded and even illegally harvested while the tree is still living. Strongly wishing to preserve this species intact and contribute to its protection, we thus chose a much more ecological and sustainable alternative by only collecting the fruits from which our essential oil is made.
Also known as « sacred wood » in Spanish and found in South America, the Palo Santo is very emblematic of the traditional American Indian culture. With a strong spiritual symbolism and captivating fragrance, this tree was especially used as a natural incense by Inca shamans to purify the atmosphere, remove negative energies or bad spirits and attract luck during rituals.    
Still today, the Palo Santo essential oil is renowned for its cleansing properties, as well as for encouraging a feeling of protection. Both unique and intense, this natural oil is famous for its ability to promote inner well-being. As such, it is a precious tool to stimulate concentration, meditation and creativity, as well as relaxation, emotional stability and self-confidence. 
A sweet blend of woody and spicy aromas much appreciated in perfumery, this stimulating and balancing aromatic treasure is thus ideal to recharge one's batteries. Purifying, the Palo Santo essential oil is also very effective for cleansing indoor rooms.     
Overall, its use is especially suitable for atmospheric diffusion to concentrate or relax, for example, as well as for creating personal natural fragrances. The precious perfume of this oil will blend well with the delicate or alluring scents of complementary ones, such as Frankincense, Myrrh, Sandalwood, Cedarwood, Patchouli, Sweet Orange or Cypress.   


*Not suitable for some people, including pregnant or breastfeeding women. Before any use, we recommend consulting a health professional specialized in aromatherapy as well as running an essential oil allergy test, and cannot be held responsible In case of use without prior medical advice.  


Full Biochemical Profile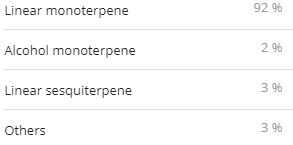 DIFFUSION BLEND IDEAS

For meditation 

For relaxation

For a restorative sleep 

For cleansing a room
To learn more about our Florihana brand and products, we invite you to explore our website or contact us through the 

attached form

.
Back