Since its creation in 1993, Florihana specializes in the production and distillation of essential oils and hydrosols, among other products. Our distillery is based in the South of France at the heart of the Plateau de Caussols, which is a natural protected site with an extremely rich biodiversity and located at over 1,000m of altitude. Committed to ensuring the well-being of its customers as well as the sustainability of the resources, Florihana manufactures natural and organically grown products on site.

With many virtues, especially therapeutic and cosmetic, essential oils are obtained from the steam distillation of aromatic plants and represent a real liquid concentrate of the plant. Different parts of plants, such as leaves (noble laurel, basil...), flowers (Damascus rose, ylang-ylang...) or bark (cinnamon, birch...), can contribute to the making of essential oils and determine the different properties of their specific molecules. Renowned for their efficacy and natural benefits, essential oils are used in many fields including aromatherapy, aromatology for beauty and well-being, and even cooking.
The distillation process of a plant also leads to the creation of another product, namely hydrosols. From the Latin "Hydro" (water) and the French "Lat" (milk), the latter correspond to the aqueous part obtained after the distillation of an essential oil. Hydrosols are impregnated with the same aromatic molecules as essential oils, except that those molecules are water-soluble. We refer to "floral water" when distilling flowers only (orange blossom, rose...). Just like essential oils, hydrosols are highly appreciated for their natural benefits. They are mainly suitable for cosmetic, skin and hair care, as well as cooking purposes, where each user selects the best therapeutic function according to their own needs. Furthermore, hydrosols can be used without any contraindications.
Paying the utmost importance to the origin and quality of the plants it uses for the well-being of everyone, Florihana develops natural and 100% organic essential oils and hydrosols of impeccable microbiological cleanliness by using a unique and innovative manufacturing process, known as the "flash détente" technology, as well as a sterilising filtration. In particular, we run chromatography tests for each of our essential oil batches, as well as microbiological analyses for our hydrolats. All of our analyses are published on our website as detailed reports that you are welcome to read on each of our product pages.
While combining its traditional know-how with current industrial standards, Florihana has also developed a cutting-edge technique to produce Aromatic Micro Emulsion (A.M.E.) for the making of its organic hydrolats. Thanks to this low-temperature, vacuum distillation process, the precious molecules within the plants are preserved in order to produce premium quality hydrosols.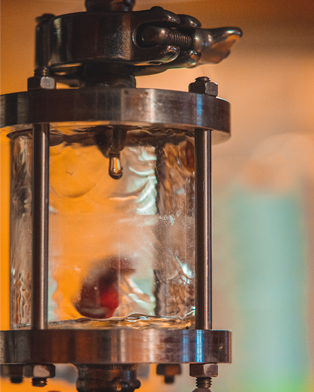 If you wish to learn more about our brand and our products, we invite you to explore our website or send us your questions using our contact form.