Historically a victim of its own success due to its high nutritional value, the Brazil nut was traditionally consumed for food by the Amazon Indians where it is originally from. The shells of the fruits were also used as a heating material. Commercialized from the 17th century along with cocoa and cashew nuts, the Brazil nut started spreading throughout Europe, initially in the Netherlands, and then in the United States from the 18th century onwards. Nowadays, it lies at the heart of an incredible trade exchange and represents one of the main economic resources for the producing countries in South America, including Brazil, Bolivia and Peru.
Harvested in specific areas of the tropical Amazon rainforest, this nut comes from the Brazil Nut tree (Bertholletia excelsa), one of the tallest trees in this region of the world. Very slender, it can grow up to forty meters high, and sometimes reaches over a thousand years old.
The "chestnuts from Brazil" (castañas de Brasil in Portuguese), also known as "Pará nuts" in reference to a state located in the north of the country, grow under two shells: a first one that looks like a coconut, rigid and thick, containing a fruit, namely the almond, and a second one holding up to twenty tasty seeds corresponding to the Brazil nuts.
Produced by cold pressing of such seeds, the Brazil Nut carrier oil is just as nourishing. Rich and balanced in omegas 6 and 9, full of phytosterols, vitamin E, selenium, a trace element with antioxidant properties, and squalene, another proven antioxidant with emollient virtues, this flagship cosmetic oil establishes itself as a must-have with moisturizing, nourishing and protective benefits. Its use will gently contribute to increase skin suppleness and elasticity. Optionally, its antioxidant action can be enhanced tenfold in combination with other similarly virtuous carrier oils, such as the Argan, Prickly Pear, Rosehip or Blackberry Seed ones. 
The Brazil Nut carrier oil also stands out for its dry texture and ability to penetrate the epidermis both easily and deeply. Combined with its protective function and softness, it is therefore a privileged natural cosmetic treatment for dry to very dry, sensitive or irritated skins, which will be soothed. With renowned emollient qualities, the Sweet Almond or Camellia Seed carrier oils, among others, blend pleasantly with the Brazil Nut oil as well.   
This amazonian treasure is equally famous for its positive effects on hair by moisturizing, nourishing and protecting it without greasing it. More specifically, the Brazil Nut carrier oil ideally suits dry, dull, fine or brittle hair, which will be gently conditioned and strengthened after repeated applications. Established into a hair routine, it will provide quick and beneficial results when used for instance as a weekly hair mask or a daily serum against split ends (to be applied in small quantities on hair ends). Complementary beauty oils, such as the Macadamia, Castor or Coconut ones, may also provide added benefits when blended with the Brazil Nut carrier oil.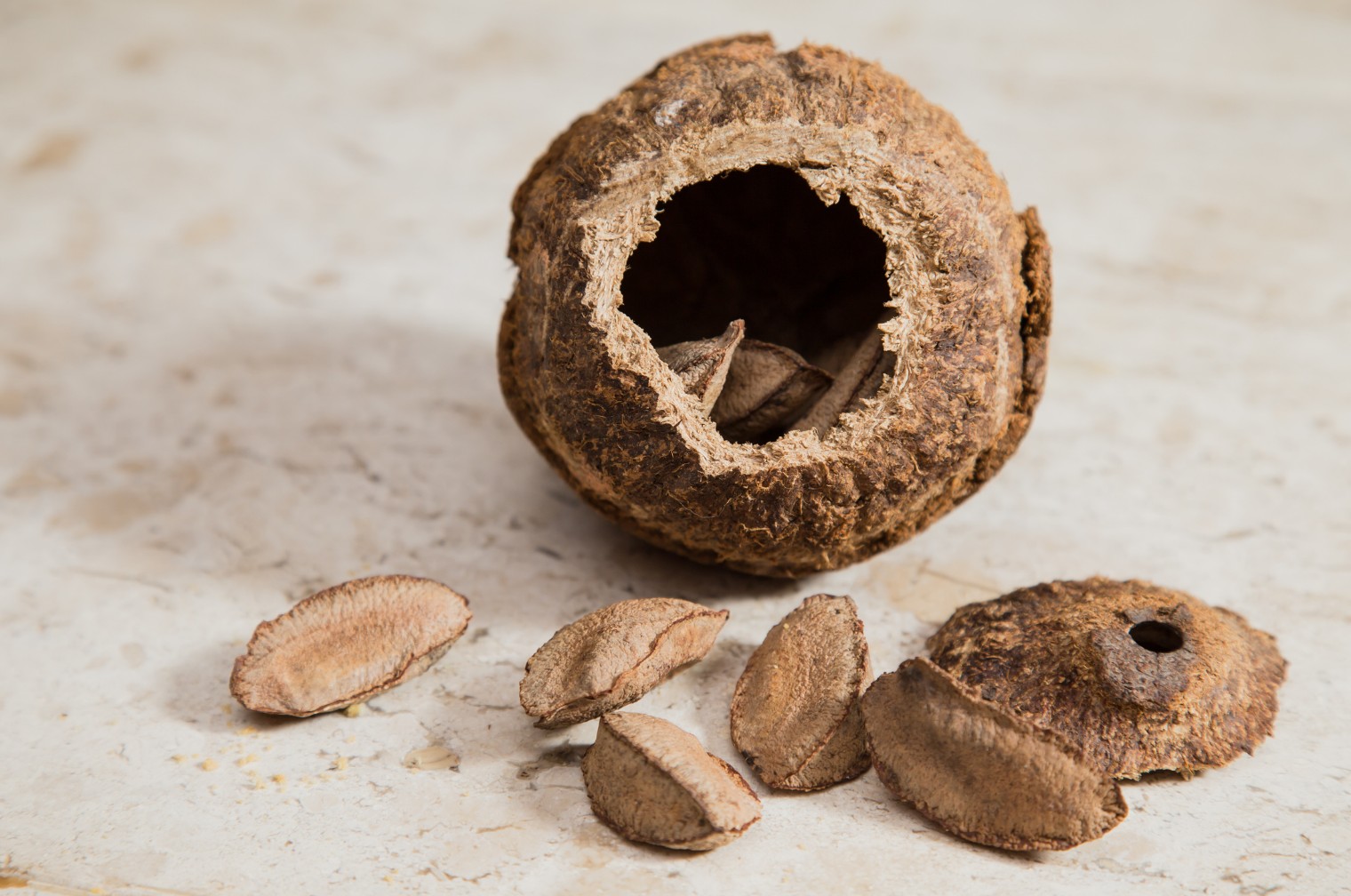 DIY BEAUTY TIPS 
Soothing massage oil
Optional: Blend with the Sweet Almond or Sesame carrier oil for a long and relaxing massage 
Nourishing and protective hair mask, to be left on from 20 minutes to several hours on dry hair before washing
Optional: Mix with the Coconut, Macadamia or Castor carrier oil
Adapt quantities depending on the type and length of your hair 
Anti-aging skin care, for a daily use on cleansed skin
Optional: Add 1 knob of herbal base cream   
For added benefits, blend with 2 to 4 drops of Argan, Prickly Pear, Rosehip or Blackberry Seed carrier oil
Body lotion for dry, sensitive or irritated skins 
Optional: Combine with the Sweet Almond, Camellia Seed, Coconut or Apricot Seed carrier oil
For further information about our brand Florihana and our products, we invite you to explore our website or contact us using the attached form. 
Back