Derived from the word Kin, 金, meaning Gold in Japanese, our KIN BERRY natural face oil is the ultimate radiance booster, to illuminate and re-oxygenate your skin day after day. 
100% natural, with over 99.7% organically grown ingredients and certified Cosmos Organic by Ecocert, this concentrate of precious carrier oils and beneficial essential oils will become your daily ally.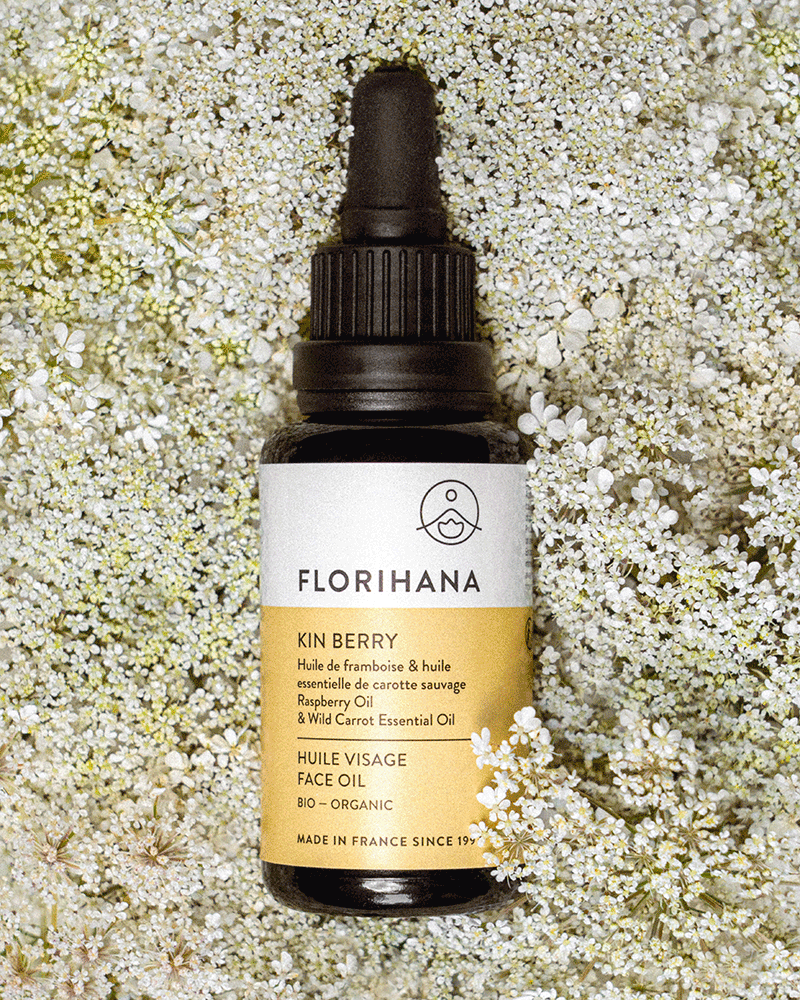 The raspberry seed, sea buckthorn, and sunflower oils contained in KIN BERRY Skincare oil, rich in omegas 3, 6, and 9 and in regenerating antioxidants, are known to tone, moisturize and illuminate all skin types. 
Rosewood and Wild Carrot essential oils have been carefully selected to bring vitality and radiance to tired skin while adding a subtle fragrance.
Result: A radiant complexion, glowing with vitality. The skin is luminous and satiny. 
COMPOSITION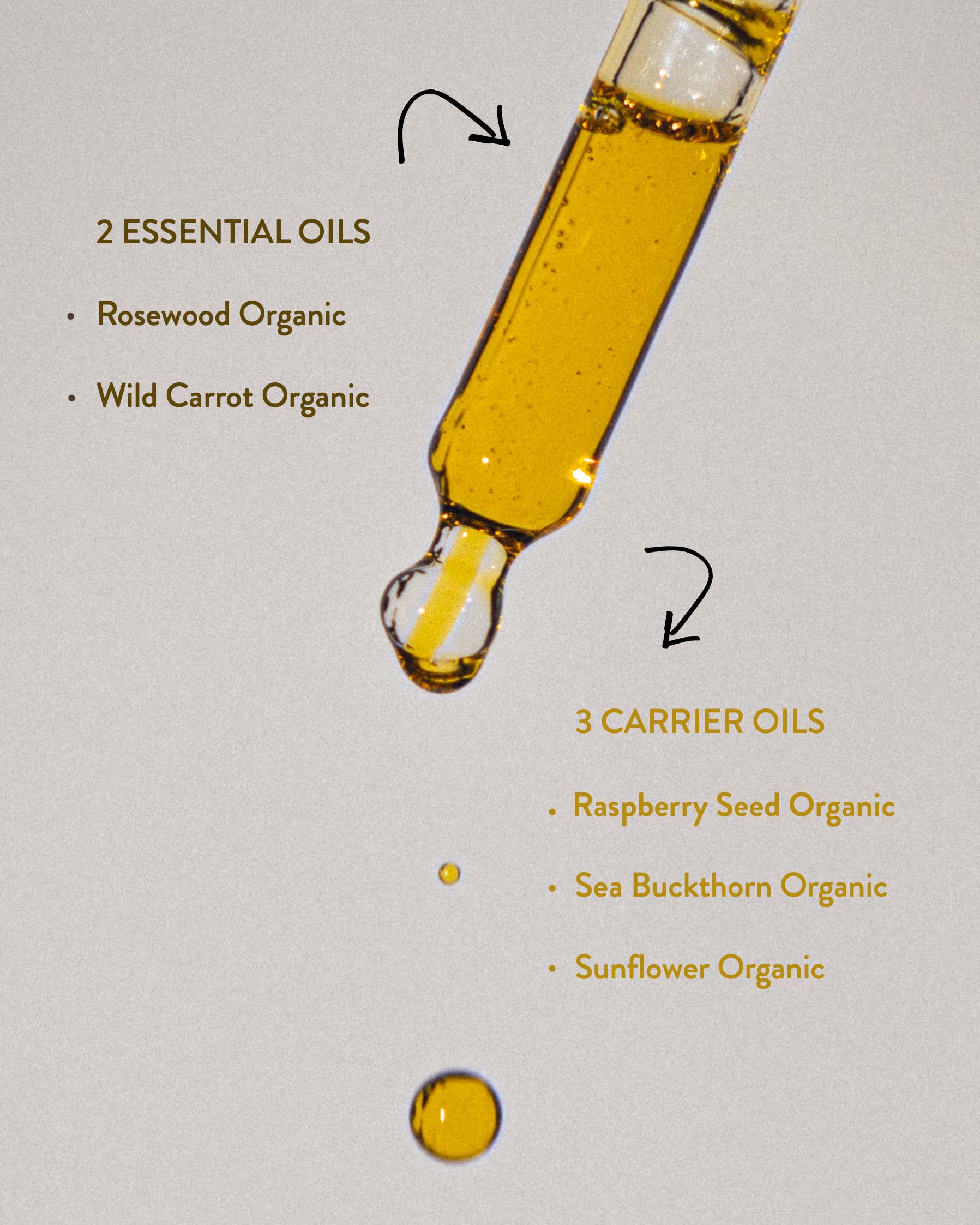 - Precious oil, organic raspberry seed oil has multiple beneficial properties for skincare: illuminating, moisturizing and protective. Naturally rich in carotenoids, raspberry seed oil provides a healthy glow.
- Sea buckthorn oil, obtained by cold pressing the seeds of the sea buckthorn tree, has well-known anti-aging, repairing, and softening properties. Its natural richness in omegas 3, 6, and 9 helps to slow down skin aging by protecting the integrity of the skin's collagen and elastin fibers. 
Sea buckthorn oil also contains a high level of tocopherol (vitamin E), phytosterols, and beta-carotene (vitamin A), which are essential for nourishing and regenerating the skin while bringing a "healthy glow" effect to tired complexions. 
- Sunflower oil comes from a solar plant and is naturally rich in omega 6, vitamin E, and anti-oxidant sterols. Ideal for dry or fragile skin, it acts effectively against skin aging. 
- Rosewood essential oil is particularly appreciated for its regenerating, purifying, and toning properties. This essential oil is an active ingredient of choice in anti-aging products, to energize the skin. Its sweet woody and floral fragrance and its good skin tolerance will seduce you. 
- Wild carrot essential oil is the ideal active ingredient to make you look good. It has excellent revitalizing, toning, and anti-aging properties. 
CONCERNS
Lack of radiance, dehydration, first wrinkles. All skin types, even the most sensitive. 
RITUAL
Take 3 to 4 drops of your KIN BERRY oil with the pipette, then mix it with your day (or night) moisturizer; or apply it directly on your clean face and neck. Massage gently in circular motions to help absorb the oil. 
For best results, apply it every morning and night, on clean and dry skin, after using a toner, and before applying your daily moisturizer.  
RESULTS
KIN BERRY Face Oil, combined with the benefits of the skin's natural repair process, will assist the latter to reveal its natural beauty day after day. 
Raspberry seed oil, rich in vitamin E and carotenoids, naturally brings a healthy glow and brightens the complexion. Sea buckthorn oil, enriched with essential fatty acids, keeps the skin intensely moisturized and prevents the first signs of aging.
The essential oils of wild carrot and rosewood contribute to firming the skin and preventing premature cell aging, thanks to their antioxidant properties. They give the skin a "radiant" effect, while naturally and delicately perfuming this skincare product. 
INCI  
This preservative-free, fragrance-free, phenoxyethanol-free, and paraben-free skincare product is composed of only 3 carrier oils and 2 essential oils. It has been developed and produced in our distillery, located in France, in the heart of the French Riviera. The Kin Berry face Oil's composition guarantees to bring all respect that your skin deserves and the best that nature has to offer. 
The core of this skincare product:

Composed of noble carrier oils with illuminating and anti-oxidant properties, as well as regenerating and toning essential oils, this oil illuminates the complexion and leaves a satin effect on the skin.
The little +:

This face oil is 100% natural. It contains over 99.7% organic ingredients.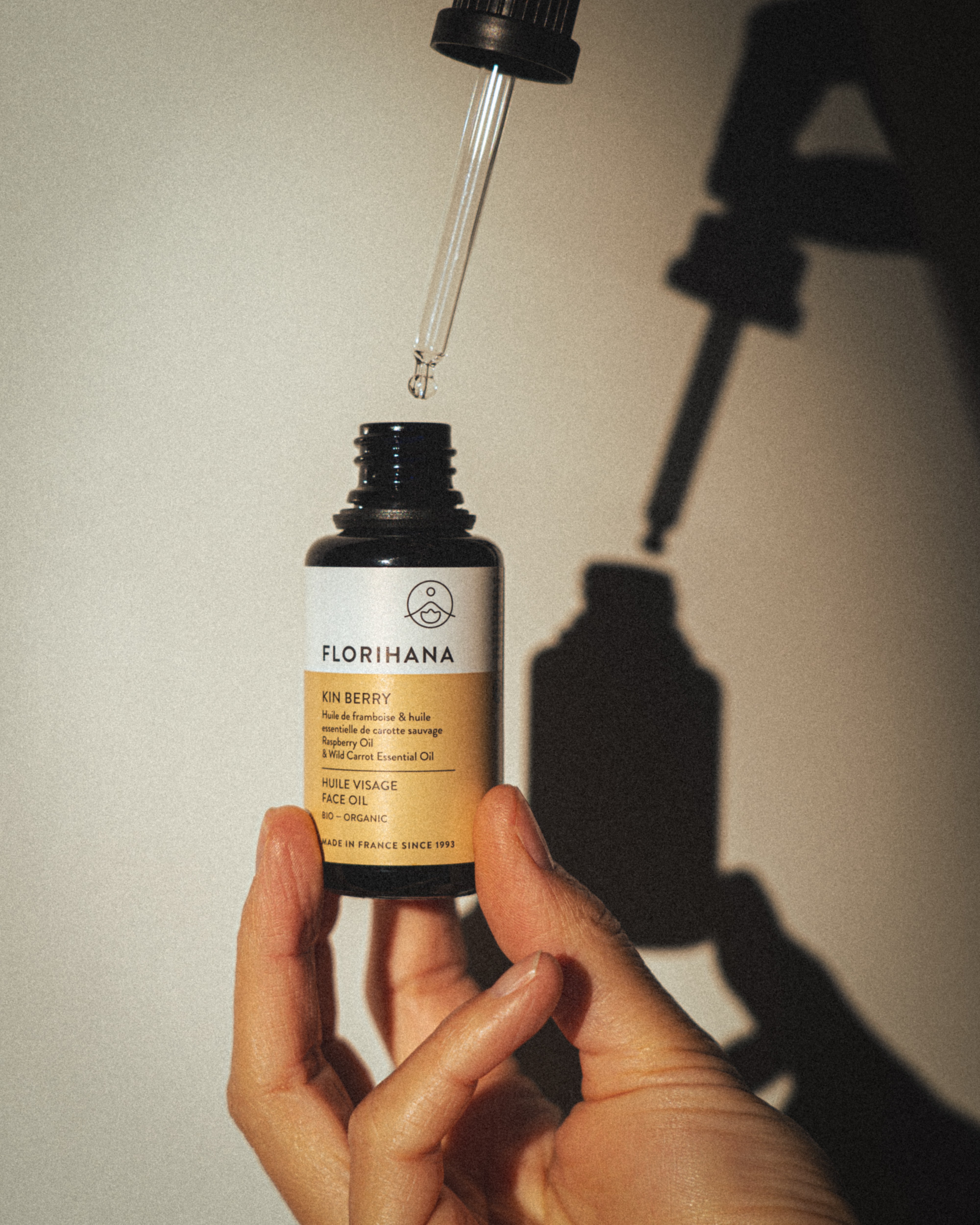 This new face oil is going to complete our range of cosmetic products and we have other surprises awaiting for you. Some fresh cosmetic products will arrive very soon, in the upcoming months, stay tuned!
To learn more about our brand Florihana and our products, we invite you to explore our website or contact us through the attached form. 
Back