A symbol of calmness, the Wild Lavender (Lavandula angustifolia) originates from the western Mediterranean. With a long stem displaying a spike of bright blue-purple flowers, it embodies an aromatic solar plant historically abundant in the Alpes-de-Haute-Provence area, and mainly grows at high altitudes - from 1000 meters (3280 feet) upwards -, preferably in warm climates and on arid, stony and sunny soils.
ORIGINS OF THE WILD LAVENDER
From the Latin "lavare", meaning "to wash" or "to purify", the wild lavender was traditionally used as far back as Antiquity by the Romans on account of its therapeutic virtues and delicate aromas to wash and perfume clothes and thermal baths. Throughout the Middle Ages, in the region of Provence, this healing and soothing plant helped curing the wounds of farmers at the time, as well as creating fragrances and remedies. In 1910, renowned chemist and one of the pioneers of Aromatherapy René-Maurice Gattefossé came up with the idea of coating his wounds with Lavender Essential Oil after being severely burned during an accident in his company's laboratory. As a result, this oil relieved his burns admirably and promoted his healing.
With the development of the Perfume and Aromatherapy industries, as well as the emergence of distilleries specialized in the production of Lavender essential oil, the exploitation of this originally wild plant began to develop intensively by the end of the 19th century, including in the South of France. In particular, proximity to the city of Grasse, now the world perfume capital, significantly contributed to the flourishing cultivation of lavender.
OUR TRADITIONAL HARVESTING PROCESS
Typical of the South of France, this precious plant proliferates particularly within the Plateau de Caussols, near Grasse, where our Florihana distillery is established since 2000. Situated between 1100 and a little over 1400 meters high (3608 – 4593 feet), this karstic and protected area represents a very fertile ground for the wild lavender, which thrives on its dry rocky slopes and under its hot temperatures, which are close to 30 degrees in summer.
The harvest period starts in July, when plants are in full bloom. The traditional picking is performed by hand, using sickles sharpened about 4 times a day, including in the morning before the picking starts at around 7am. Technical and crucial for the following year's harvest, this process requires a precise gesture that involves cutting the flowers without damaging the plant to allow it to grow well afterwards. Pickers are especially attentive to cut the flowers cleanly and evenly while adopting a certain position that preserves their physical condition and does not tire their wrists, joints or backs.
As one of our core values, harvesting is also carried out every year with the utmost respect for local biodiversity. United around this environmental pillar, our team of pickers, genuine nature and wilderness enthusiasts, actively participates in the protection of the ecosystem all along the harvest. Plants are cut as evenly as possible to ensure proper regrowth the following year and insects, including bees, spiders and locusts, are preserved. Accepting and respecting them in this natural state is undeniably an integral part of our annual traditional harvesting process.
A true art, this ancestral know-how is transmitted among pickers from year to year. Hand-picking is also combined with an ancient technique of a large sheet crossed in the back, and in which the cut lavender is collected. Gradually, these sheets filled with plants are emptied into other large sheets placed on the ground. Tied at each corner, the bundles thus formed allow plants to be harvested in large quantities, up to about 90 kilograms, and to preserve their essence. Collected just a few hours later in the wild hills of the Plateau de Caussols, the freshly harvested flowers are directly transported to our distillery where our organic and 100% natural Essential Oil and Hydrosol of Lavandula angustifolia are produced with special care and according to the Florihana distillation process at very low temperature.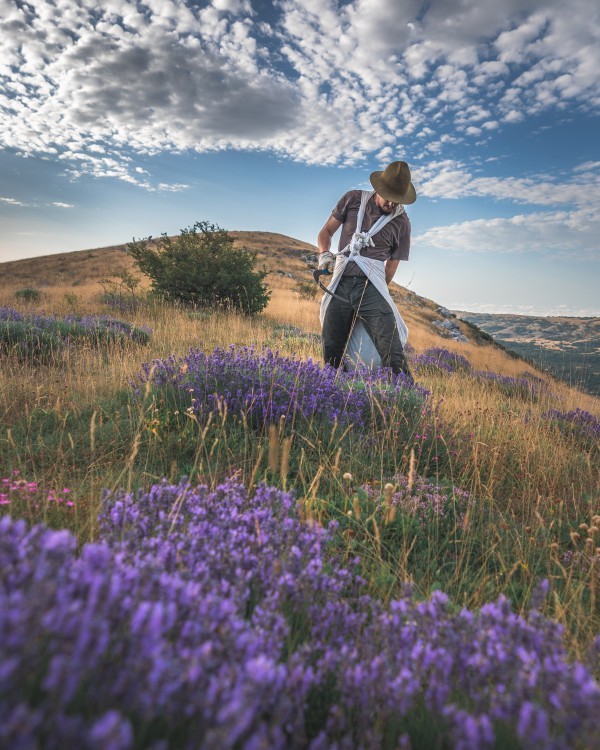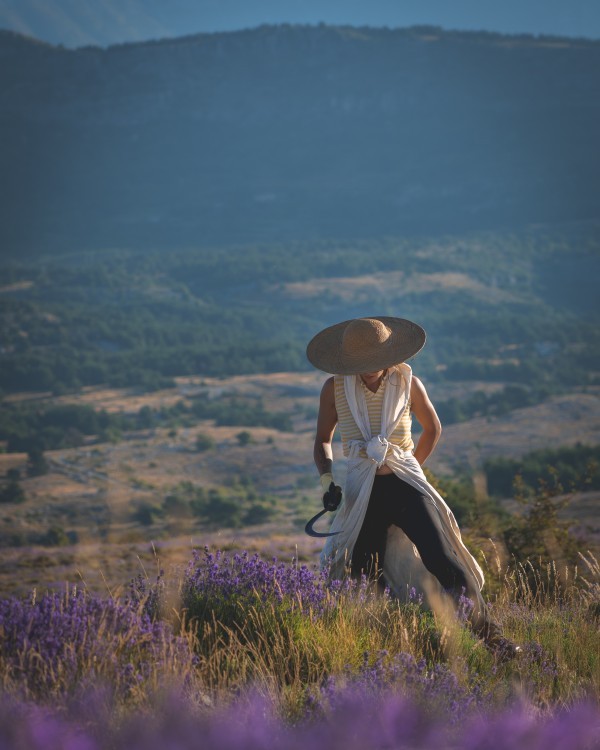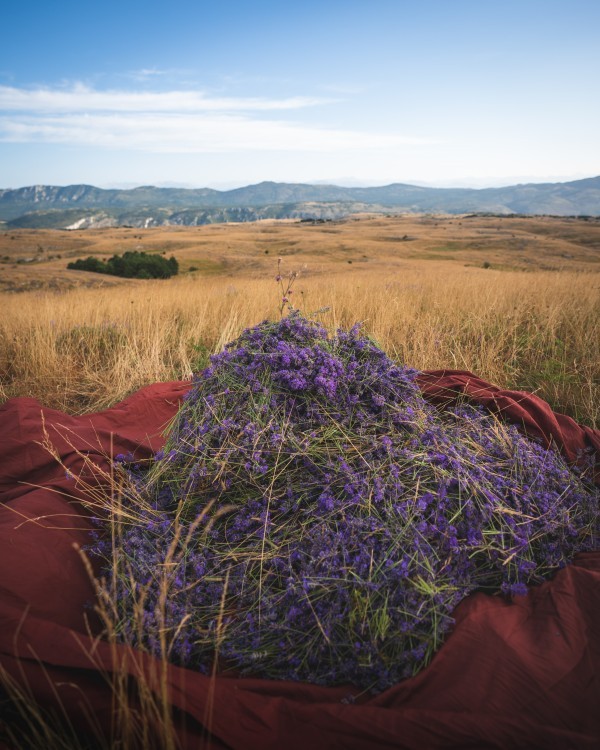 MAIN VIRTUES OF THE WILD LAVENDER
With proven therapeutic properties, especially healing, calming and anti-inflammatory, the Essential Oil of this noble plant stands as a real panacea in the world of Aromatherapy. Soothing, it helps relieve wounds, burns or insect bites, as well as promoting relaxation and sleep. With multiple uses, this oil can be incorporated into natural cosmetics or used in diffusion with a Microparticles Diffuser before sleeping, to relax or to perfume and cleanse a room, as well as in massages with a Carrier Oil base.    
Below are several natural recipe ideas: 
Repair Hair Mask: Mix 1 drop of Wild Lavender Vera Essential Oil into 1 tablespoon of fortifying Jojoba or nourishing Argan Carrier Oil. Apply the mixture to dry hair from 30 minutes to 1 hour before rinsing with warm water.


Making your own Bath Salt: Mix 5-6 drops of Wild Lavender Vera Essential Oil into 2 tbsp. of coarse salt. Add the blend to hot bath water, then enjoy a moment of relaxation for the next 20 minutes.


Relieving Insect-Bite Care: Add 2 drops of Wild Lavender Vera Essential Oil on a cotton swab, then apply directly to the bite for about 30 seconds.


Sunburn Soothing Treatment: Mix 1 drop of Wild Fine Lavender Essential Oil into 1 tbsp. of Arnica Macerated Oil, then gently massage the affected area (we recommend washing your hands thoroughly before and applying the blend to cleansed skin).
Organic and endowed with refreshing and soothing benefits, our Wild Lavender Vera Hydrosol also constitutes a remarkable cosmetic care or culinary ingredient. Purifying, it contributes to softly cleansing both skin and hair. Soothing, it relieves irritations and gently treats sensitive or damaged skins. Cooking-wise, when incorporated after heating, it subtly garnishes savory dishes such as ratatouille or goat's cheese cake, as well as desserts such as crème brûlée, chocolate mousse, lemon pie or apricot clafoutis.
An enchanting plant from the South of France with endless virtues, the wild lavender represents a real daily essential. To learn more about our brand Florihana and our products, we invite you to explore our website or contact us using the attached form.
Back