Founded in 2007 by Christian Camprini, Meilleur Ouvrier de France Chocolatier from Nice with more than twenty years of experience in gastronomic catering, the Maison Camprini embodies one of the historical and emblematic regional partners of our Florihana distillery.
Plunged into a traditional universe and true to its Mediterranean origins since its creation, the famous chocolate factory, which runs two boutiques on the Côte d'Azur, essentially turns towards plain and fresh quality regional products, such as Almonds from Provence, Hazelnuts from Piedmont or Lemons and Mandarins from Menton. Those are mainly products with southern flavors featuring citrus and acidity, fresh fruits recalling summer, as well as flowers in celebration of the city of Grasse, the world capital of perfume. 
Searching for authenticity, taste and pleasure lies at the heart of the manufacture process of the Maison Camprini, which both meets the very traditional standards of chocolate-making and brings original hints to each of its creations by incorporating products from the South of France. As a result, all fragrances are natural, savory and genuine, although not too intense. Combining tradition and innovation as well as drawing inspiration from the surrounding nature and authenticity is what has been bringing the Maison Camprini and Florihana together for more than a decade.
With a strong terroir identity, the artisanal chocolate factory continuously seeks new products of local origin to add to its creations with natural aromas and oriental flavors reflecting the Mediterranean basin. Discovered in the mid-2000s, Florihana instantly met the requirements and needs of Christian Camprini, Founder of the Maison, with its natural and organic plant-based products. "I've always enjoyed fine ingredients and focused on quality. This is precisely why I turned towards Florihana and never changed since, having found what I was looking for", specifies this Meilleur Ouvrier de France Chocolatier who garnishes several of his chocolates and pastries mainly with our Organic Neroli, Damask Rose and Wild Lavender Vera Hydrosols. "Very aromatic, chocolate is supported by the flavor of Hydrosols. Subtle and delicate, the Neroli Floral Water of Florihana is simply the best. I also highly enjoy the Damask Rose Hydrosol, which reminds of the Orient".
Flavored, these organic and preservative-free Hydrosols contribute to inspire gourmet and attractive creations including fine touches of originality, such as the Tarte Valbonnaise, the pastry specialty of the Maison Camprini, the crunchy Neroli Shortbread, the intense Raspberry-Rose Petal Chocolate, the Fresh Citrus Grapefruit-Rose Tart, as well as the Milky Ganaches with Lavender Honey from Sallagriffon. Constantly committed to seeking fragrant aromas and delight, Christian Camprini essentially favors natural plants with a fairly long maceration period, as well as an extraction technique that allows for maximum concentration of the perfume in order to ensure ever greater flavor, quality and authenticity.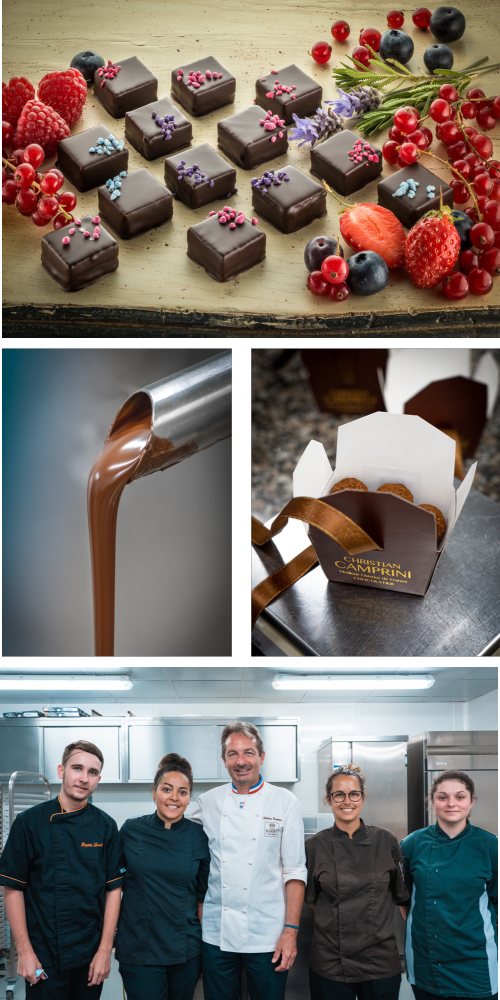 In the meantime, we invite you to discover the Maison Camprini
and its line of delicacies by following this link. 
More information about our Florihana brand also available on our website.
Any questions? Send us your requests through the attached form.
Back